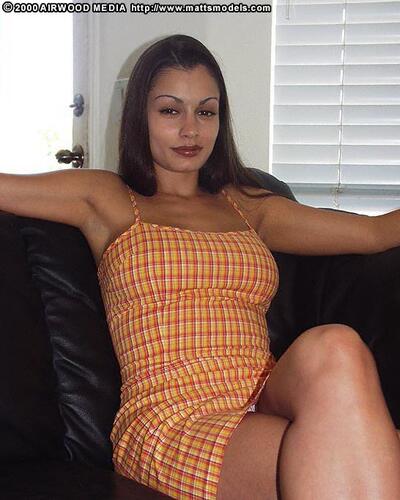 Updated Bio 2016:



Come on. Can you imagine being me? In the first year of my job as photographer of nude models and she walks into my house and strips naked? I could barely contain my professionalism.

Aria resides in the Erica Campbell category of trailblazers for Internet Nude Model Superstars. They both had the vision. They knew their physical assets and we're gonna make the most of them.  Aria was totally goal oriented. Nude modeling was a means to an end. I also shot both of them around the same time.

Apparently she also dated some pretty wealthy dudes and hung with some Rock Stars. I heard some funny stories over the years. I guess at one point she was dating some Restauranteur and she loved to eat. I think she got pretty heavy at some point.

I never really got to know Aria. She was on a mission to take over the adult industry. I think she is still one the most popular girls on the Internet

More power to her.




---








Original Bio:



I'm becoming a Mormon & moving to Utah with Aria & Jesse. I have
discussed this with both of them and they are fine with it. I'm going to
live on a few acres of land with horses, swimming pool and a jacuzzi. I
will be having sex with both girls together and sometimes individually
EVERYDAY for REST OF MY LIFE.......

ok so ....I just woke up.

Ya know....if all men could have that lifestyle....there would be no
crime, no murder & no wars.

So my 2 recent favorites are Aria & Jesse.
You may have seen Aria elsewhere on the net. She is not a total amateur
but she is so beautiful that I had to shoot her. Aria is 22 yrs old.

She has an amazing face, ass & tits ...all natural (Can u believe she
was turned down by Perfect 10? ...what were they thinking?) Note the
FULLNESS of her breasts.
They just have a lot of MASS.

Anyways.....this girl is a great. She is a very normal student who takes
dancing lessons. Shes a one-guy girl with an older boyfriend (she says
young guys haven't sowed their oats yet).

YOUNG GUYS take note:
If u wanna get the hottest young chicks, get
STABLE, have a good job, be upwardly mobile...dont look like a "player"
....look like a guy that could be a great father someday.
You have to imagine that girls as fine as Aria get hit on EVERYDAY OF
THEIR LIFE....at the store, driving in their car (they get FOLLOWED HOME
sometimes!) going to class, the beach, the gym, EVERYWHERE. They get
pretty sick of it.....and the only way you're gonna stand out fom the
PACK is if you don't look like a HORNY-ASS DOG :)

I shot a few photo sets on her including a messy milk-drinking set :)
Also shot some behind-the-scenes & promo video on her.

She is not in the magazines yet - but you will see her soon...I will
keep you abreast.

If you would like to see more pics & video - just email me with
requests.

Matt